The Wallingford-Swarthmore District has created the parent/student portal for easy access to attendance information, progress reports, current grades, assignments, scheduling, and discipline. If you wish to be more informed about your child's educational progress, then you definitely have to check out the portal.
In order to get access to all that valuable information, you must have a confidential username and password. If you are a parent, you must register first with your child's ID number. To get the number, contact the building secretary. If you are a parent of more than one kid that goes to any of the district institutions, you can get the educationally related information for every kid on one webpage, there is no need to create two or more accounts.
For students to have access to the parent account, the parent needs to grant access. Just go to the My Account tab and click on Create Student Login, and as simple as that your child will have the view-only access to the database.
Wondering what your kid's grades for this semester are? Want to view the attendance activity? Or maybe you want to have up-to-date information to all of the due assignments? Well, lucky you, this portal has answers to those questions and even a lot more.

Contacts of the Wallingford-Swarthmore School District Parent/Student Portal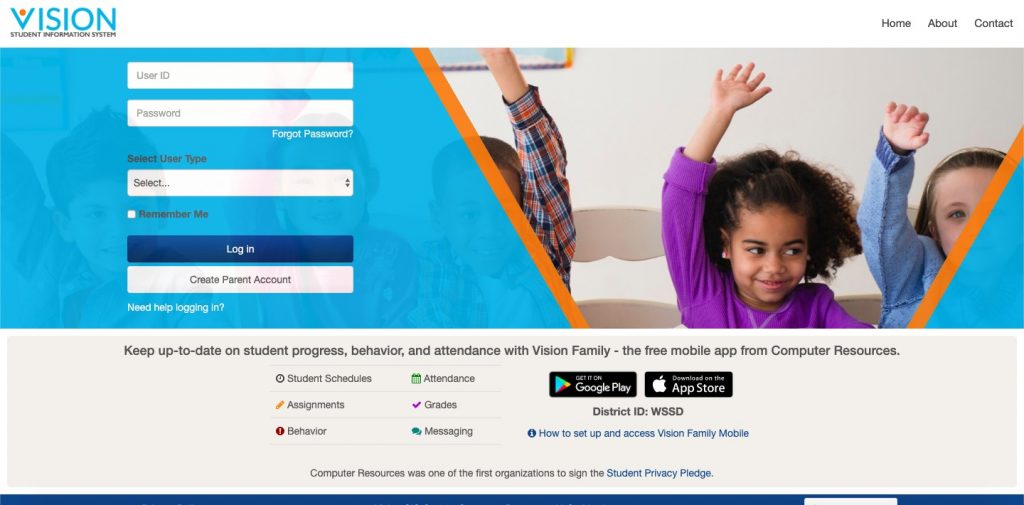 The following contact information is provided on the portal website: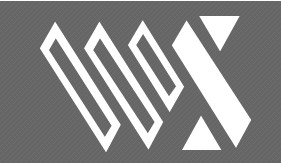 About Wallingford-Swarthmore School District Parent/Student Portal
The parent/student portal has simple navigation and a nice, user-friendly design, which makes it easy to surf through the needed information both for students and parents. The portal consists of tabs. The main ones are My Account and Student/Courses tab.
By clicking onto My Account tab, you'll get redirected to a page, on which you can perform such actions:
Change account password
Add students to the account
Create the student page
Change student password
Others
The main purpose of this tab is to manage your account. You can even check what your kid has purchased at the cafeteria and forbid to buy any item of the menu.
The Student/Courses tab gives you an opportunity to view up-to-date details of your child's academic achievements. By redirecting to this page, you will have access to your kid's current grade average, assignment grades, current assignments due. Also, you can check out the course announcements. Besides, you get access to the student's learning calendar, progress report, transcript, attendance records, discipline activity, and report cards.
And a great advantage of the portal is that there are special apps from which you can easily access all the information from your mobile phone.
Program Description of Wallingford-Swarthmore School District
The elementary academic program consists of the following areas of study – Math, Language Arts, Social Studies, Science and Technology.
The sixth-grade program has the following subjects – Integrated Language Arts, Physical Education, Social Studies, Math, Science, Foreign Language, Art, Music, Performing Music Ensembles. Besides, every establishment has student counseling. He/she gets assigned to each grade level. Moreover, after the 8th period, Connections meetings are held throughout the establishments. They help to finish the day and sum it up without stress for the students.
The seventh-grade program contains – Language Arts, Math, Science, Social Studies, Foreign Language, Art, Music, Family, and Consumer Sciences, Physical Education, Computer Science, and a couple of additional programs. The eighth grade has almost the same program.
The high school educational program consists of:
Philosophy
Academic Regulations
Counseling Program and Services
English
Social Studies
Foreign Language
Science
Mathematics
Fine, Applied and Performing Arts (Art Department, Photography, Television, Music, Drama, Technology Education, Computer Science, Family, and Consumer Services)
Health/Physical Education
Special Programs (Construction, Health, and Human Services, Power and Transportation, Technology)
The website of the district contains all course offerings with a full description of all of the aspects of taking those courses and more.
Also, there are special programs for gifted students of any age. To get an overview of curricular domains and goal areas, go to the district webpage, there is plenty of useful information.
About Wallingford-Swarthmore School District
This suburban district is neither big nor small. It is a combination of public educational establishments. It consists of three elementary schools, one middle school, and one high school – Swarthmore-Rutledge Elementary School, Wallingford Elementary School, Nether Providence Elementary School, Strath Haven Middle School, and Strath Haven High School.
Over the many years of the district's existence, it has earned numerous honors and distinctions. You can spot a selective listing of them on the main webpage.
Maybe you want to provide your child with proper education at home, but have no idea how to begin and do it correctly? The district provides all the information needed for this. There is a home education parent checklist, program guide, elementary and secondary affidavits.
Every institution of this district offers not only great educational programs but also a variety of clubs and activities. Here is a list of some of them:
Anime Club
Bocce
Coffeehouse
Creative Writing
Feminism Club
French Club
GSA
Hi-Q
Jabberwocky
Make-up
Panther Press
Robotics
Tech Crew
And other great ones
Reviews for Wallingford-Swarthmore School District
The reviews for the WSSD are wonderful. The district has hardly any flaws. Students and their parents say that they definitely recommend this district. They were supported, accepted and appreciated at the WSSD.
The institutions have great and qualified teachers employed. The students claim that after finishing any of the educational institutions and going to college, they feel very confident and capable there. The educational establishments have given them the needed preparation for further studying at a college. At college, they find it easy to combine the study, social life and curricular activities, which their peers can't.
Students state that their interests have been satisfied, discovered, and encouraged. The institutions provide an abundance of fantastic educational opportunities. It is easy to grow emotionally, socially and academically.
Some of the disadvantages of these districts include the lack of parking space and the price. For more, check out our pros and cons list.
The teachers that were employed or currently are employed at any of the institutions of the district say that they are impressed by the educational institutions. Mostly, they consider this an excellent place to work. But they feel that there is a lack of employee relations and staff support. Also, for some the salary is poor. A big plus is that the working hours are good and the establishments provide great benefits. Sometimes it was difficult to communicate with the administration.
All in all, both the reviews of students and employees of the WSSD are positive and almost everyone recommends the education that this district. In those schools everyone is equal and the students feel like home there.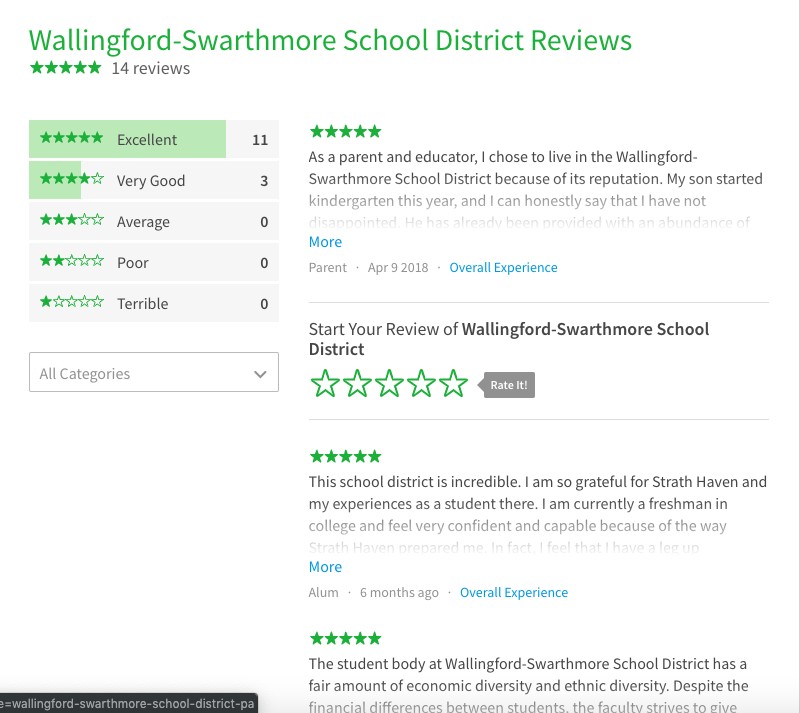 Pros and cons of Wallingford-Swarthmore School District
It is impossible to stay on both sides when giving a review for this district. Which is why we have created this pros and cons list and left the job for you to choose your side.
Pros:
Qualified teachers
Plenty of activities
Safe schools
Phenomenal opportunities
Students aren't "put into a box"
Supportive administration
Lots of modern technology and materials
Cons:
Not much diversity
Expensive
Lots of shifting within personnel
Coursework is stressful for many students
Does Wallingford-Swarthmore School District have a campus?
The WSSD district comprises of five educational institutions – three elementary ones, one middle school, and one high school. It is best to go to the webpage of the desired school and get familiarized with the information located there, you'll find plenty. If you still have questions unanswered after surfing the websites, you may contact the educational establishment directly.
Tuition and Fees in Wallingford-Swarthmore School District
Such dependable information is not given on the student/parent portal. If you would like to know the tuition and fee details of a certain school, you need to make a call or visit the website of the needed establishment.
Conclusion
A long time ago, when a parent or a student wanted to know their final grades or to check out the schedule, or any other educationally-related information, they had to ask somebody around at school. Nowadays, we have a parent/student portal for that. It is a powerful source filled with such information. This portal is no exception.
With the help of the portal students of the WSSD have all details about their study process right at their fingertips. It was designed in such a way that even a 10-year-old, or a very inexperienced internet user, can look through it. If you have any questions regarding the portal, great technical support comes to the rescue. Maybe you have a hard time using it and have no idea how to find the needed information? The creators of the portal put together a great guide that contains step-by-step instructions on using the portal. It will solve all of your issues.
Do you want to know your recent grades? Are you wondering about your schedule for tomorrow? Or maybe you forgot what your math assignment is? Check out the portal and it will answer your questions.